How Dental Implants Work – Towson, MD | Millersville, MD
Offering Patients a Permanent Solution for Missing Teeth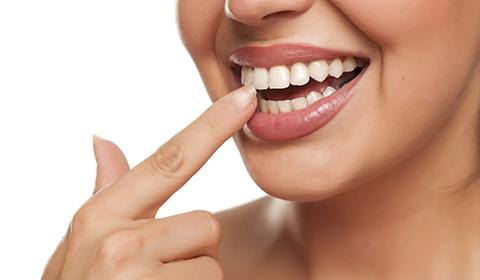 When it comes to preparing for dental treatment, Dr. Melody Ward wants her patients to trust each stage of the process. If an individual is preparing for dental implants in Severna Park, she maintains a high level of transparency when it comes to informing and providing all the necessary information a patient needs to make an informed decision about their oral health. From the initial consultation to implant placement to aftercare, you can expect Dr. Ward and her team to walk you through each step. If you're ready to learn more about this beneficial and permanent solution for missing teeth, contact us today to schedule a consultation.
Initial Dental Implant Consultation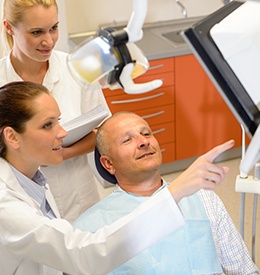 Before any type of dental procedure, Dr. Ward will conduct an initial consultation. This is a time when you can ask questions, express concerns, and ultimately determine if this is the right kind of treatment for you.
During the consultation, Dr. Ward will thoroughly examine your mouth, including your jawbone. It is important that you have enough bone density and healthy tissue to pursue dental implants. Without them, it can result in implant failure. If it is determined you are a successful candidate for dental implants, she will take impressions of your mouth so your custom restoration can be created.
You can also expect your consultation to cover the overall cost of your implant procedure.
Dental Implant Surgery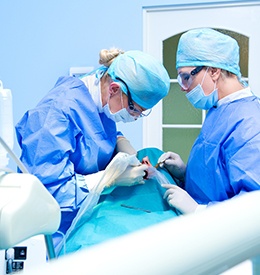 As a periodontist in Severna Park, Dr. Ward will begin by administering local anesthesia or sedation. This will keep you comfortable and feeling no pain throughout the implant placement process. She will make a small incision in your gum line and drill a hole in your jawbone. Carefully, she will position the implant, so it is properly placed before stitching up the area. It is important that the implant is in the correct position, but with a trusted and highly skilled periodontist like Dr. Ward, you can rest assured your procedure will be effective and successful.
Dental Implant Osseointegration & Abutment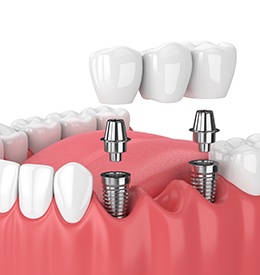 After she has stitched up your surgical sites, you will be sent home to heal for the next 3 to 6 months. A process known as osseointegration must occur in order for your implants to be a success. Osseointegration is when the implant must fuse to the bone to provide a stable and secure foundation for the restoration.
Once Dr. Ward is satisfied with the healing process, she will place an abutment, which is a small appliance that connects the implant to the restoration.
Placement of Dental Implant Restorations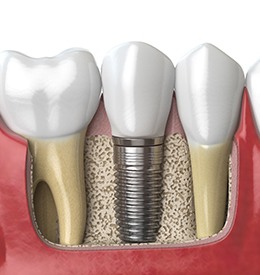 The last stage of the implant placement process is receiving your customized restoration. Whether it is a dental crown, implant bridge, or an implant-retained denture, your prosthetic will be matched to your natural tooth color, size, and shape. This will create a beautiful, seamless smile that you will be proud to show off to your family, friends, and colleagues.