Dental Implants – Towson, MD
A Lifelong Solution to Tooth Loss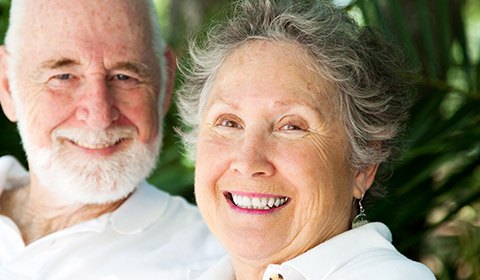 Tooth loss can lead to dramatic and even devastating consequences for a patient's overall quality of life. You may struggle to enjoy favorite foods, chat clearly with friends, or even smile in photographs. While turning the clock back may not be possible, modern dental implants provide the next best solution. This transformative reconstructive service rebuilds the entire natural structure of the lost tooth from the ground up, and a highly trained periodontist like Dr. Melody Ward is your best choice for a smooth and successful treatment experience. Better yet, every part of this procedure can be performed in one convenient location!
Dr. Ward is also happy to accept referrals from general dentists. Contact us today in Millersville or Towson, MD to schedule a consultation.
Why Choose Us for Dental Implants?
Highly Trained Periodontist With Several Years of Experience
Dental Implant Placement & Restoration In One Convenient Location
Bone Grafting, 3D Imaging & Other Advanced Care Available On-Site
Benefits of Dental Implants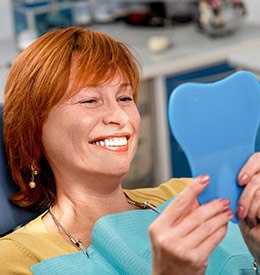 Outstanding Stability – Traditional tooth replacement options like bridges and dentures only focus on rebuilding the portion of the tooth that appears above the gum line. Also known as the crown, this addition may bring back the aesthetic quality of your smile, but it won't support the underlying bone. On the other hand, dental implants function to replace missing root structure of the tooth. Dr. Ward personally carries out the surgical placement of the new implant(s), establishing a strong and capable foundation that should thrive for many years to come.
Improved Oral Health – One of the biggest dangers of untreated tooth loss is that the jawbone is no longer stimulated by tooth roots. As a result, the tissue can deteriorate over time, losing density and volume in a way that may even impact your physical appearance. By replacing these roots with dental implants, oral health is preserved, and any noticeable facial "sagging" can be reduced.
Longevity – With the help of proper oral hygiene and maintenance, dental implants can thrive for several decades. In many cases, patients are even able to enjoy them for the rest of their natural lifetime without replacements.
Indications for Dental Implants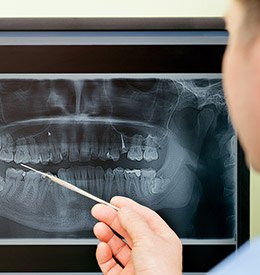 From single gaps to entire lost arches, patients with a wide spectrum of tooth loss can reap the benefits of dental implants. Several custom, attractive types of restorations are available to match with your specific circumstances, and you can learn more about them by continuing to read below:
Missing One Tooth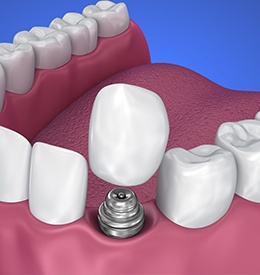 When only one natural tooth needs to be replenished, a single dental implant will be surgically inserted into the jawbone to support an all-ceramic dental crown. This new addition will blend right in alongside the rest of your smile, and unlike traditional bridges, it won't require any original dental structure to be filed down to accommodate its arrival.
Missing Multiple Teeth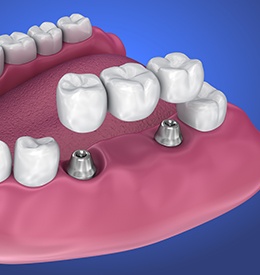 Implant-retained dental crowns can also be paired with implants in several areas throughout the mouth as needed, but a more cost-effective solution may be an implant-retained bridge instead. This sturdy prosthetic relies on the enduring support of at least two implants to cover the gap left by consecutive missing teeth.
Missing All Teeth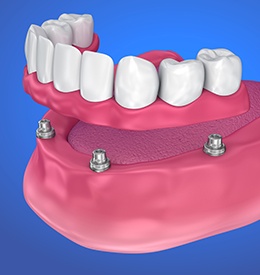 When a large number of teeth have been lost, an implant-retained denture can provide premium coverage. Dr. Ward will place a small number of dental implants at strategic angles throughout the jaw to provide a stable foundation; this approach is more affordable than replacing each lost tooth with its own individual implant. In additional to traditional dentures, All-On-4 prosthetics are also available for patients who no longer have the entire top or bottom arch of their smile.
Learn About All-on-4 | Teeth-in-a-Day
Advanced Dental Implant Procedures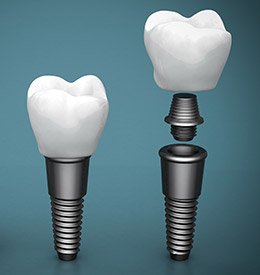 While many general dental practices now offer tooth replacement with dental implants, they are not equipped to handle particularly complex circumstances or procedures that may become necessary during the treatment process to ensure success. Dr. Ward has the specialty training and advanced experience needed to guide patients safely through this one-of-a-kind smile transformation, whether it involves bone grafting, ridge preservation, or other advanced care options. She is happy to partner with dentists from all over the Millersville and Towson communities.
Learn About Advanced Dental Implant Procedures
Dental Implant Frequently Asked Questions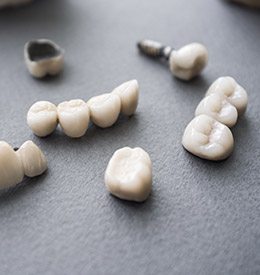 At times, the thought of rebuilding dental structure with modern implants can feel intimidating or even overwhelming to patients in need. What can you expect from these procedures? Are you the right candidate for dental implants? Is this process safe? Our team is always happy to provide valuable education and assurances so that you can proceed confidently with your chosen treatment plan. Follow the links below to learn the answers to some of the most common "frequently asked questions" we receive.
The Cost of Dental Implants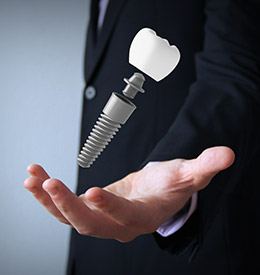 There are a variety of factors that can influence the cost of dental implants, from the overall suitability of the implant site in question to the number of implants that are needed in the first place. Preliminary exams, the surgical procedures, and the eventual restoration(s) will all incur their own unique price. Rest assured, though, that your initial consultation here in Towson or Millersville will cover all of this information in comprehensive detail. Dental implants are certainly an investment, but it's one our team believes is worth making, as there is no other tooth replacement option available today that provides the same level of aesthetic value, oral health improvement, and longevity.