Dental Implant Frequently Asked Questions – Towson, MD | Millersville, MD
We Can Answer All Of Your Dental Implant Questions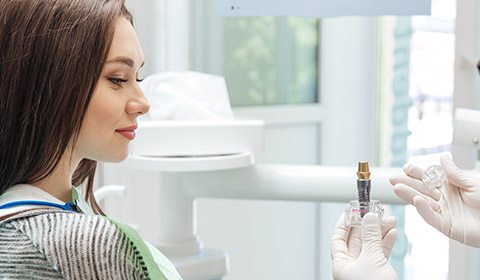 If you feel unsure or concerned about some aspect of dental implant treatment, there's no need to linger in that anxious state without answers. Dr. Ward and the rest of our team are always happy to put your mind at ease, providing clear communication and valuable education that helps you work towards a replenished, more confident smile with certainty. For added convenience, we have compiled some of our frequently asked questions and their answers below:
Are dental implants safe?
Dr. Melody Ward will help you keep your teeth whenever possible but if a tooth (or teeth) cannot be maintained in health, esthetics and function then dental implants are a safe and viable option available to most patients. Years of dedicated clinical research and experimentation have demonstrated that dental implants are a safe and highly successful reconstructive procedure. However, patients should be aware that factors like inadequate bone density and regular smoking can increase the chances of dental implant failure over time. Dr. Ward will do her best to help patients better understand and avoid these risks, providing additional treatment whenever needed.
Will I need a bone grafting procedure before getting dental implants?
The most crucial factor associated with the success of dental implant placement is the amount of healthy jawbone volume in the surgical site. If a patient has been struggling with tooth loss for several years, their natural tissue may have deteriorated too far. Thankfully, bone grafting and regeneration can be provided by a seasoned periodontist like Dr. Ward, creating a brand-new, strong foundation for their smile.
Are dental implants covered by my insurance?
While every patient's dental insurance benefits will vary depending on their specific plan, most major providers don't elect to cover dental implants at this point in time. However, they may cover different aspects of the implant process such as the crown on the implant or the extraction before the implant. Our team will be happy to review this financial information in greater detail with you during your initial consultation.
Are dental implants a good choice for someone who feels unhappy with a denture?
In most cases, yes! If you're regularly frustrated with an unstable or uncomfortable traditional denture, dental implants can help provide new permanence while also minimizing the threat of jawbone deterioration to boot, which is a common consequence of using traditional bridges and dentures for the long-term. Implant-retained dentures can either be fixed in place to imitate natural teeth or left removable in nature so that patients who are used to traditional dentures can enjoy the best of both worlds – convenient removal when needed and renewed oral health benefits.
Will my dental implant procedure hurt?
Most patients say that they only experience a small amount of oral swelling and general discomfort after implant placement, and Dr. Ward offers comfort amenities to minimize this effect even further. Patient relaxation is one of our team's top priorities!
How long does it typically take for dental implants to heal?
The answer to this question will be different from patient to patient. The healing time is influenced by a few different factors – namely, the type of implant procedure you have undergone and the overall density of your jawbone. While All-on-4 implants can be provisionally restored on the same day as the initial surgical procedure, other cases may require weeks to months of healing before your new final "teeth" can be anchored in place.