All-on-4 & Teeth-in-a-Day – Towson, MD
Replace An Entire Arch Of Missing Teeth In One Day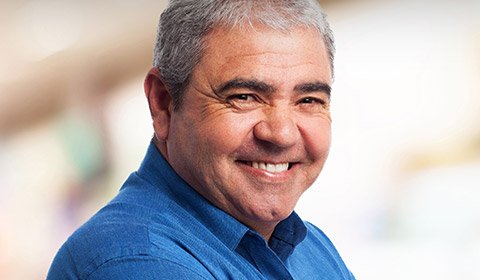 In today's world, patients no longer have to resign themselves to the unfair stigma and daily challenges of tooth loss. If you are missing an entire arch of your once-confident smile, it's time to explore the transformative option of All-on-4® with a trusted periodontist like Dr. Melody Ward. As the name implies, this minimally invasive procedure involves the use of as few as four placed dental implants to support a full, seamlessly lifelike prosthetic. You can have all of your teeth back without the need for multiple surgeries and tedious waiting! Contact our specialty dental office in Towson, MD today to schedule an initial consultation.
Why Choose Us for All-on-4 & Teeth-in-a-Day?
State-Of-The-Art 3D Cone Beam Imaging
Temporary Restoration Provided Same-Day – No Waiting Required
Fully Customized, Stable & Comfortable Dental Prosthetics
How Do All-on-4 Dental Implants Work?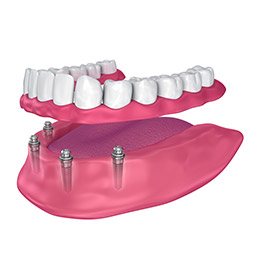 If you have lost all of your natural teeth or are currently losing the battle to preserve worn-down and fractured teeth, All-on-4 is a conservative and fast option for regaining a strong, capable smile you can show off with pride again. Dr. Ward will strategically angle as few as four (or as many as six) dental implants in the jawbone in order to provide full support to your new, full-arch prosthetic – this approach is more cost-effective and also minimizes the need for additional surgeries like bone grafting. Better yet, your brand-new "smile" can be anchored in place on the same day as the initial implantation.
Am I A Candidate For All-on-4 Implants?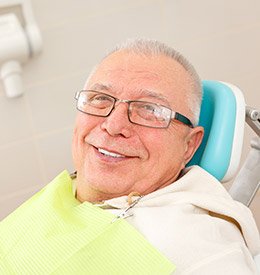 Most patients are excellent candidates for the All-on-4 procedure! Ideally, these conditions should be met for the greatest chances of success:
Your oral health is generally good
Your overall health is generally good
You are not taking any medications that will noticeably impair the healing process
You don't smoke
For patients who currently have gum disease, Dr. Ward may recommend periodontal therapy before implant treatment can safely commence, as this infection can threaten the continuing livelihood of dental implants just as much as it does natural teeth. And if you are older, don't worry – age is never a barrier to treatment as long as the patient's general health is relatively strong.
What Are the Benefits of All-On-4 Implants?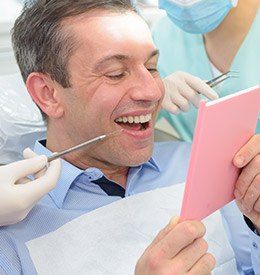 All-on-4 implants can be cared for just like natural teeth with daily brushing and other oral hygiene techniques – no overcomplicated routines required.
Patients no longer have to be cautious about the foods they eat. You can essentially return to a complete diet, as your smile will have regained a dramatic amount of biting force.
All-on-4 prosthetics are highly lifelike; it's likely that no one around you will even notice they're not your original teeth!
Bone deterioration (a common side-effect of tooth loss) will be successfully preserved with the inclusion of the All-on-4 dental implants and help you maintain attractive facial features for years to come.