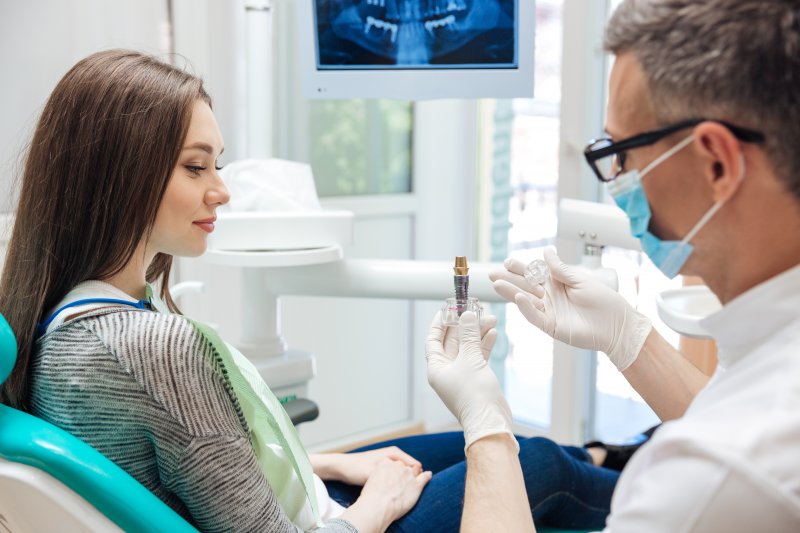 One of the reasons dentists tend to recommend dental implants for tooth replacement is how successful they are. In general, the surgery is found to have a success rate of around 95% to 98%, and the results can easily last a lifetime with the right care. Of course, the other side of that coin is that there's still a possibility of implant failure, which is why potential complications need to be taken into account before your dentist decides to move forward with the surgery. If you're considering getting dental implants in Towson, be aware of these 4 issues that could stand in your way – as well as how they can be solved!
1. Insufficient Jawbone
Dental implants are considered an excellent solution for bone loss, but in order to place the posts in the first place, there needs to still be enough bone to support the implant. In other words, if there's not enough bone tissue in your jaw, implant surgery cannot be performed. Bone loss is commonly a consequence of tooth loss, but it might also be the result of osteoporosis or gum disease. Fortunately, it's often possible to rebuild a jawbone that has lost some of its density with a bone graft procedure.
2. Gum Disease
On the surface, gum disease might not seem particularly serious, but it can inflict serious damage to your mouth in its most severe stages. An untreated gum infection could end up destroying the underlying bone tissue in your jaw, and that in turn can lead to implant failure (as well as the loss of additional teeth). If you have any form of gum disease, you'll need to have it treated before getting an implant. You'll also need to practice excellent oral hygiene after the surgery to lower the risk of suffering from gum disease in the future.
3. Smoking
Not only does smoking increase your vulnerability to gum disease, but it also restricts the blood flow in your gums, which can complicate the healing process. As a result, smokers tend to have a much higher dental implant failure rate than other patients. If you smoke, it may still be possible for you to get dental implants, but you'll need to talk to your dentist about the steps you'll need to take.
4. Medical Conditions
Diabetes, rheumatoid arthritis, and other diseases that can slow down the body's healing processes could potentially prevent osseointegration, which is the process of the implant fusing with the jawbone. Your dentist in Towson will need to review your entire health history before deciding whether or not to move forward with implant surgery.
As long as you're aware of the potential risks for dental implant failure, you can make the necessary preparations to improve your odds, such as seeking treatment for gum disease and bone problems ahead of time. Schedule a consultation with your dentist today to discover what you should do to start getting ready for a stronger, healthier smile!
About the Author
Dr. Melody Ward received her Doctor of Dental Surgery at the University of Maryland Baltimore, where she also completed a residency in periodontics. She loves being able to work closely with patients and combine her passion with dentistry with her passion for surgery. If you have been thinking of getting dental implants to repair your smile, get in touch with her office today by visiting her website or calling (410) 583-5214.