Bone Grafts and Sinus Lifts – Severna Park, MD
Preparing for Your New Smile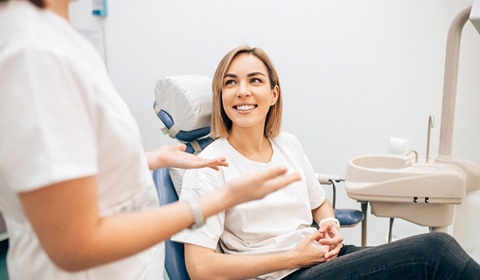 Would like to get dental implants, but your dentist has told you that your bone structure cannot support them? That is a common problem, especially among individuals who lost their teeth many years before considering dental implants. Dr. Melody Ward and our team are here to help. With either a sinus lift or bone graft in Severna Park, we can prepare your mouth to support the beautiful dental implants that will give you a new smile and new confidence. We always perform these procedures with patient comfort and an optimal outcome as our primary goals.
Why Choose Us for Bone Grafts and Sinus Lifts?
Experienced dental specialist
Patient comfort a top priority
State-of-the-art dental technology
Bone Graft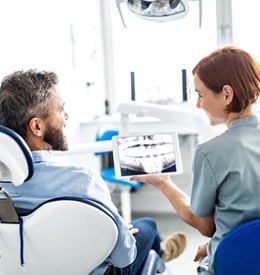 Following tooth loss, the bone that once supported a tooth begins to be resorbed. That is to say, your body recycles the bone material for other purposes, since it is no longer needed to keep your tooth in place. Over time, the bone can become so deteriorated that it lacks sufficient mass to support a dental implant. In such cases, a bone graft becomes necessary.
During the bone grafting procedure, Dr. Ward, your periodontist in Severna Park, creates an incision in the gums to access the bone. Then, she packs in the grafting material. The material for the graft may be from a donor, or it may be artificial. It is also possible to use a patient's own bone from another part of their body. After the material is in place, Dr. Ward closes the incision, and the healing process can begin.
The soft tissues in your mouth will heal fairly quickly from the surgery. While your gums recover, you should stick to eating soft foods and take precautions not to irritate the surgical site. Even after your gums have healed completely, it will still be some time — several months — before the bone and the grafting material have completely bonded with each other. After your body finishes accepting the graft, you will be able to receive dental implants.
Sinus Lift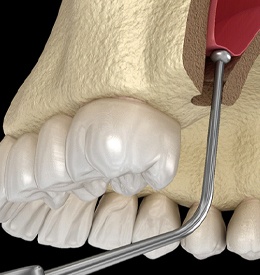 Your sinus sits above your upper teeth. Some people naturally have a large sinus that is quite close to the teeth. Other people, due to bone loss, have very little bone between their upper teeth and their sinus. In such cases, it is impossible to insert a dental implant because it might puncture the sinus. That is where the sinus lift procedure comes into the picture.
During the surgery, Dr. Ward creates a hole in the bone of the upper jaw and gently pushes the sinus upward. Then, she packs grafting material into the hole in the bone to ensure that the sinus stays in its new position.
As is the case with a regular bone graft, you should feel fairly well recovered after a short period of time — perhaps a few days to a week. However, it usually takes about six months or so before the grafting material becomes fully integrated into the bone and a patient is eligible to receive dental implants.
Would you like to speak to Dr. Ward about bone grafting procedures or any other stage of the dental implant process? Contact our team today to schedule your consultation.