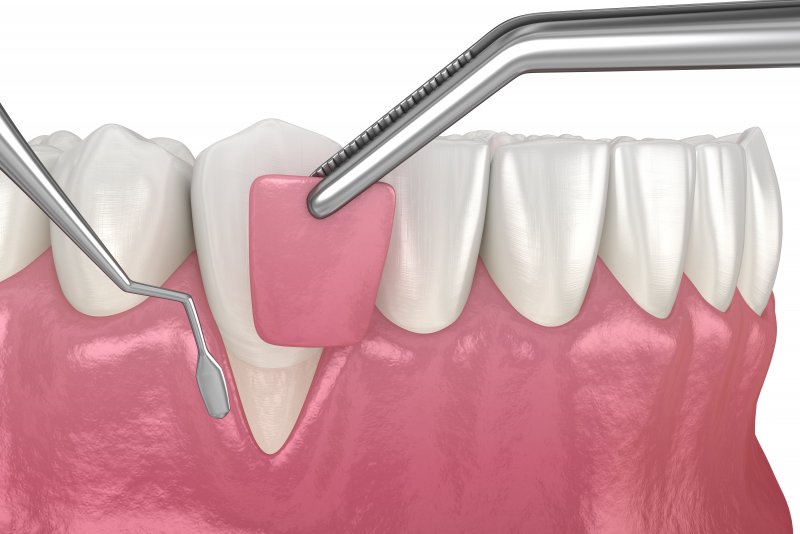 Gum tissue grafts, sometimes referred to as gum surgery, are often needed when gum disease has caused the gum line to recede away from the tooth, exposing the roots underneath. There are actually several different types of gum grafts, and it's up to your periodontist in Baltimore to decide which one is right for you and your one-of-a-kind smile. The procedures listed below are 4 examples of gum grafting – each one uniquely suited to meet different patients' needs.
1. Connective Tissue Grafts
Most patients with gum recession will receive a connective-tissue graft in order to cover their exposed tooth roots. It's generally recommended for patients with sensitive teeth or those who are simply looking to make cosmetic improvements. The tissue for the graft will be taken from the connective tissue layer of the roof of your mouth (hence the name "connective tissue graft.") The tissue will then be carefully applied to the affected areas of the mouth and carefully stitched in place.
2. Free Gingival Grafts
Free gingival grafts are often recommended to patients who had thin layers of gum tissue to begin with. The procedure both reverses the effects of gum recession and helps reinforce weakened gingival tissue. Like with a connective tissue graft, the necessary tissue is taken from the roof of your mouth; however, only the top layer of tissue will be removed. This procedure typically focuses on reinforcing existing gum tissue so that it provides better protection for the roots or does a better job of holding them in place.
3. Pedicle Grafts
While connective tissue grafts and free gingival grafts both take tissue from the roof of the mouth, pedicle grafts usually rely on a much closer source: the gums themselves. This type of graft can only be performed if you still have a sufficient amount of gum tissue around the area in question. A small flap of tissue is partially cut away from the treatment area so that it can be pulled over or down, covering the exposed parts of the teeth. Once the tissue has been adjusted properly, it is stitched in place. This type of grafting often causes less discomfort.
4. Donor Grafts
In some cases, the tissue for a gum graft might need to be taken from a donor. This is usually done if the periodontist needs to treat multiple areas of the mouth at once for a single procedure. The tissue may be taken from a cadaver, but sometimes animal tissue is used instead.
Gum grafting in Baltimore can mean the difference between a healthy smile and one where multiple teeth have been lost. If you think gum recession is starting to affect your grin, set up an appointment with your periodontist today to discuss which type of graft might be best for you.
About the Author
Dr. Melody Ward is proud to specialize in periodontics, and she always loves the chance to teach her patients more about gum health while improving their smiles. As a Diplomate of the American Board of Periodontology, she is an expert in many different periodontal procedures, which natural includes different forms of gum grafting. To schedule a consultation to ask about possible treatments for gum recession, visit her website or call (410) 583-5214.