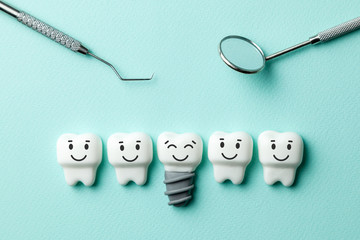 If you're looking for a way to replace your missing teeth, you're in luck! With modern dental technology, you have all sorts of different options. However, a preferred method by patients and dentists alike is dental implants due to their many benefits. You want to be showing off a new smile that appears to be natural and flawless. Continue reading to learn about the many different cosmetic benefits of dental implants in Towson.
Prevents Bone Loss
When a person is missing teeth, especially if it is for a long period of time, they are likely to experience bone loss. This is because the jawbone isn't being continuously stimulated by the roots of the missing teeth when chewing. Ultimately, patients can end up with sunken in cheeks and wrinkled lips as a result of a loss of facial structure. The great thing about dental implants is that they replace the root of the missing tooth and prevent the jawbone from deteriorating further than it already has. This way, the jawbone gets the stimulation it needs to stay healthy,
Placement of Implants
After careful planning, your dentist will surgically place your implants into the jaw it the most ideal location for osseointegration to take place. This means that they will function more ideally with maximum stability once they fully heal. They will also be placed with soft tissue deficiencies in mind. In the end, there will be a more aesthetically pleasing result.
Customizable Crowns
You want your dental implants to look as natural as possible. This is why the crowns on the end of each implant are custom made to be the exact size, shape, and color needed to blend in seamlessly with the rest of your smile. This process requires a lot of planning because the new crown must fit perfectly into the empty gap and be the same length as the adjacent tooth.
Prosthetic Design
If there are adjacent teeth being restored at the same time, crowns can be made specifically in order to reduce the volume of the space between the teeth. A lot of the time, when there is a triangular space left between the teeth, this is done in order to correct the appearance of an inadequate papilla.
Managing Soft Tissues
When patients are getting dental implants, they are sometimes able to have their gum tissue reconstructed in order to make their smile appear more cosmetically pleasing. This can be an extra step for patients who have experienced gum recession in the past.
If you're searching for a tooth replacement option that will leave you with a beautiful smile, you don't need to look any further than dental implants. This is a popular method that leaves patients with a smile that makes them feel confident again!
About the Author
Dr. Melody D. Ward earned her Doctor of Dental Surgery as well as completing her residency in periodontics at the University of Maryland Baltimore. In 2014, she became a proud Diplomate of the American Board of Periodontology. For more information on dental implants or to schedule a consultation with Dr. Ward, visit her website or call (410) 583-5214.