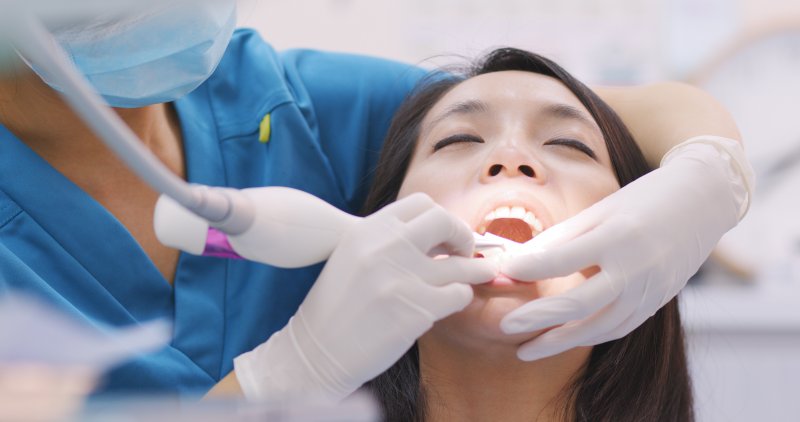 When it comes to battling gum disease, regular dental cleanings can be helpful if caught in the early stages; however, once it progresses beyond the initial phase and becomes periodontitis, traditional methods are no longer enough. Instead, your periodontist in Towson will need to perform a periodontal cleaning, but what is the difference? Read on to find what makes these treatments different and what you can expect should you need to take back your gum health.
The Truth Behind a Regular Dental Cleaning
Every six months, you are strongly encouraged by your dental professional to receive a dental checkup and cleaning. These visits are designed to not only check for abnormalities and signs of tooth decay and gum disease, but they're also meant to thoroughly clean your teeth and gums.
During these cleanings, your dental hygienist will remove plaque, surface stains, tartar, and other remnants from your teeth. Using traditional dental instruments such as a scaler helps to rid your smile of these harmful bacteria that live above the gum line, minimizing your risk for developing periodontal disease and experiencing tooth loss.
How a Periodontal Cleaning Differs
Also known as "deep cleaning," periodontal treatment typically involves a process known as scaling and root planing. If the symptoms you exhibit point to bacteria that is attacking the soft tissues and creating gum pockets, this type of cleaning will help to remove the plaque and tartar accumulations while encouraging your gums to reattach to your tooth roots.
Using specialized dental instruments, your periodontist in Severna Park will effectively eliminate the buildup of plaque and tartar above and below your gum line before gently smoothing out the tooth roots to remove any crevices that might attract harmful toxins. Once this process, which is completed in two parts, is finished, it will be much harder for bacteria to re-infect the area.
What You Can Expect When Undergoing a Periodontal Cleaning
When learning you need periodontal treatment, you may wonder what the process entails. First, it is necessary for your periodontist to fully examine your oral cavity to determine the following:
How much plaque and tartar are present
The depth of your gum pockets
How far the gum disease has progressed
Once all the necessary information is compiled, they will personalize a treatment plan that includes the correct course of action to help you regain your gum health. This can include scaling and root planing, antibiotic therapy, or even osseous surgery (gum pocket reduction). In most cases, patients undergo the first option because it is less invasive than surgery.
If necessary, you will receive a numbing agent to minimize any discomfort you might feel during the scaling and root planing process. Once it is finished, you can expect your gums to be sore, and you will want to avoid smoking or eating anything other than soft foods for the first 48-72 hours.
To speed up recovery, it is possible to rinse with mild saltwater, and you can take your antibiotics and pain reliever as instructed.
Now that you understand the difference between the two types of cleanings, it's easy to see why it's important to maintain good oral health and do what you can to reduce your risk of developing gum disease.
About the Author
Dr. Melody Ward completed dental school at the University of Maryland Baltimore, earning her Doctor of Dental Surgery degree. Dr. Ward also completed a Master of Science degree and completed her residency in periodontics. Dedicated to helping patients take back their oral health, she and her team offer safe and effective periodontal treatments to minimize harmful bacteria and encourage better gum health. To learn more about Dr. Ward and the services offered, visit our website or call (410) 583-5214.