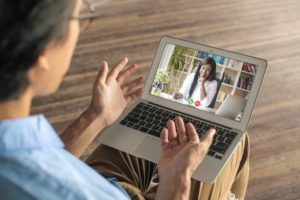 Social distancing is one of the best ways to prevent the spread of COVID-19. Whether you are at the grocery store or taking a walk in the park, you likely do your best to stay at least six feet away from non-family members. But since the very nature of medicine often requires close contact with other people, you might wonder if social distancing is really possible when you visit your periodontist in Towson. It is! Learn what measures are in place to help you stay healthy and safe during this pandemic season.
No Handshakes or Hugs
You may love your periodontal team, and they certainly love you — but now is not an appropriate time to express that affection through handshakes and hugs. In fact, you may find that there are barriers between you and them at all times, whether the barrier is plastic shield at the front desk or a shield and masks covering your periodontist's face. An elbow bump or friendly wave may be among the best way to greet the periodontal staff throughout the time of COVID-19.
Virtual Waiting Room
In the past, you may have headed into your periodontist's office immediately after you parked your car outside their building. Now, however, you can remain in your car and check-in with the office over the phone. They will let you know when they are ready to start your appointment, so you can go into the building and head to the treatment area without spending a lot of time hanging out in a waiting room with other people.
Spaced-Out Scheduling
Your periodontist near Severna Park has changed their scheduling protocols so that fewer patients are in the building at any given time. Plus, the spaced-out scheduling allows extra time for your periodontal team to thoroughly clean the treatment areas between each patient. You might even find that your periodontist is performing more extensive treatment in a single appointment to reduce the need for patients to come back to the office multiple times.
Teledentistry
In some cases, you might require a periodontist's guidance or advice but not actually need to see them in person. In such instances, you can ask to schedule a remote visit. Via teledentistry, you can discuss your gum health concerns with your doctor or attend a follow-up appointment after surgery. Strict security measures are in place to make sure that your connection with your periodontal team remains secure and confidential when you are attending appointments over the internet.
Social distancing is one of our main defenses against the spread of COVID-19. Your periodontist is doing everything possible to help you stay healthy and safe during these uncertain times.
About the Author
Dr. Melody Ward is a dentist and periodontist. In 2014, she earned the prestigious accomplishment of becoming a Diplomate of the American Board of Periodontics. She enjoys helping her patients to achieve healthy, confident smiles — and she is deeply concerned about their overall well-being. Our practice has strict safety protocols and social distancing measures in place to keep our team and our patients safe. To learn more about Dr. Ward or our how practice is helping to prevent the spread of COVID-19, contact us at either of our two conveniently located offices.