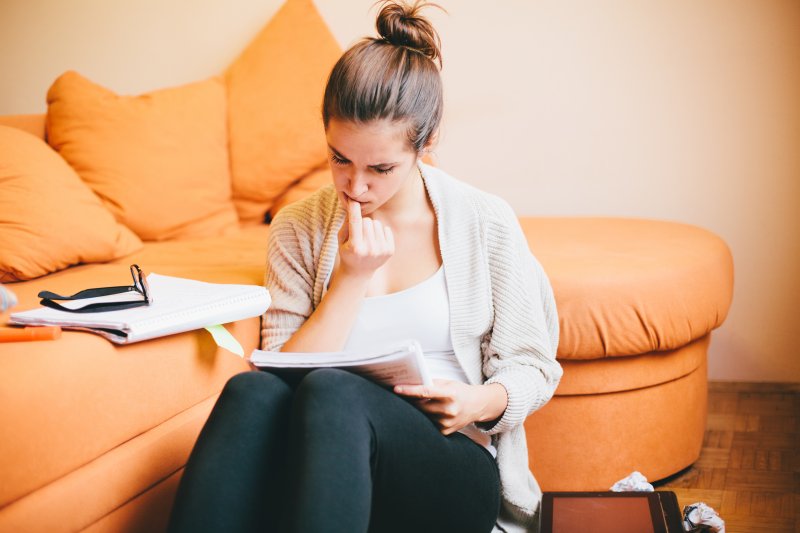 Being quarantined during the COVID-19 crisis can be very stressful, and that makes it easy to pick up certain habits in order to try and find relief. Some of these habits might be harmless, but others could be more damaging than you think – and many of them could end up hurting your smile and force you to call your periodontist in Millersville in the middle of a crisis. Keep your teeth and gums as safe as possible by staying away from these 4 potentially harmful activities.
1. Snacking on Sugary Treats Throughout the Day
You probably already know that sugary snacks can increase your risk of tooth decay and gum disease. It's okay to indulge in these treats every once in a while, but you mind find yourself eating them throughout the day when you have nowhere else to go – and that means damaging sugars could remain in your mouth for a much longer period of time. Save the cake and candy for mealtime when your mouth will produce more saliva, which will help wash away the sugar before harmful bacteria have a chance to feed on it and turn it into acid.
2. Smoking or Chewing Tobacco
If you already have a smoking habit, you might find yourself using cigarettes or chewing on tobacco more often now that you have extra time to spend at home. Of course, tobacco products are already a significant risk factor for gum disease and other oral health issues, and increasing their use certainly won't help matters. Now is a good opportunity to research programs that will help you give up cigarettes and other forms of tobacco before your teeth and gums pay a serious price.
3. Chewing on Pens and Pencils
Plenty of people chew on the ends of their writing utensils while lost in thought, especially if they're already nervous. Sadly, this habit is also a common cause of cracked and chipped teeth, and it can also cause significant irritation to your gums. If you must chew, you should definitely stay away from any hard substance; try stocking up on sugarless gum instead.
4. Brushing Too Hard
When oral health is on your mind, you may feel like brushing more vigorously than normal. As your periodontist in Towson can tell you, scrubbing too hard with your toothbrush could wear down your teeth and hurt your gums. Instead, gently massage the areas you want to clean, and be sure that you're always using a brush that has soft bristles.
Bear in mind that even if you avoid these habits in favor of healthier ones, there is still a chance of gum disease or other oral health issues occurring. Keep your contact information for your periodontist in Severna Park close by in case of an emergency!
About the Author
When it comes to periodontal therapy and placing dental implants, Dr. Melody Ward always loves the chance to get to know new patients and help them improve their smiles. As a Diplomate of the American Board of Periodontology, she is passionate about performing all kinds of surgeries related to gum health. If you're worried about gum disease during COVID-19 quarantine, get in touch with her through her website or call (410) 729-9090.