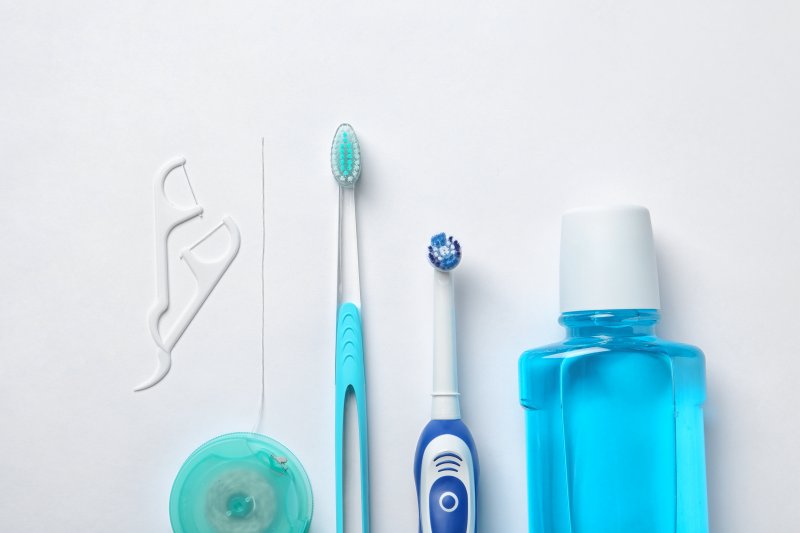 Part of practicing social distancing is limiting the amount of time you spend outside. That said, there are times when you'll have no choice but to head to the store to stock up on supplies. In particular, if you're diligent about practicing good oral hygiene every day, you'll need to eventually buy additional toothpaste, dental floss, and mouthwash. The good news is that by paying close attention to your own habits and being smart with they way you use these products, you can conserve them for as long as possible so that you can minimize the number of trips you need to make. Read on to learn 3 tips from a periodontist in Towson for making your dental supplies last.
1. Use Just the Right Amount of Toothpaste
You don't actually need to cover the toothbrush's entire head with toothpaste. Your periodontist in Severna Park will tell you that normally adults only need a pea-sized amount. Anything beyond that does not offer improved protection for your teeth; it just causes you to use up the tube more quickly. Small children need even less toothpaste, particularly if it's fluoridated. You should use a smear that's no bigger than a grain of rice so that your little one doesn't suffer from any stomach problems should they accidentally swallow some of it.
2. Measure Your Dental Floss Carefully
Finding the right amount of dental floss can be somewhat tricky. You don't want the piece you use to be too short, or you'll end up putting the used sections back in your mouth, letting the bacteria you've already removed settle in different crevices inside your mouth. On the other hand, you certainly don't want to break off the pieces carelessly, or you'll end up wasting large pieces of floss. The ideal length is usually around 18 to 24 inches; when you hold it, most of it should be wound around your middle fingers so that there's only 1 to 2 inches between them.
3. Follow the Instructions for Mouthwash to the Letter
Generally speaking, you'll use about 20 milliliters of mouthwash during each session, which is equal to about four teaspoons. However, the exact amount depends on the product you're using, and it's important that you stick to the instructions your given; not only will you avoid wasting mouthwash, but you'll ensure that the product is used safely. Many brands will include some kind of cup or a marked lid that you can use to measure the appropriate amount of liquid.
Pay close attention to the products you use and make a note of the days when you expect to run out. Careful resource management is the key to keeping your mouth healthy, your bank account full, and your family safe during quarantine!
About the Author
Dr. Melody Ward is passionate about both dentistry and surgery; becoming a periodontist has allowed her to pursue both loves while helping her patients in Towson enjoy disease-free smiles. She is always happy to give advice regarding periodontal and gum health and how they relate to overall wellbeing. If you have concerns about your oral hygiene routine, you can get in touch with her through her website or by calling (410) 583-5214.