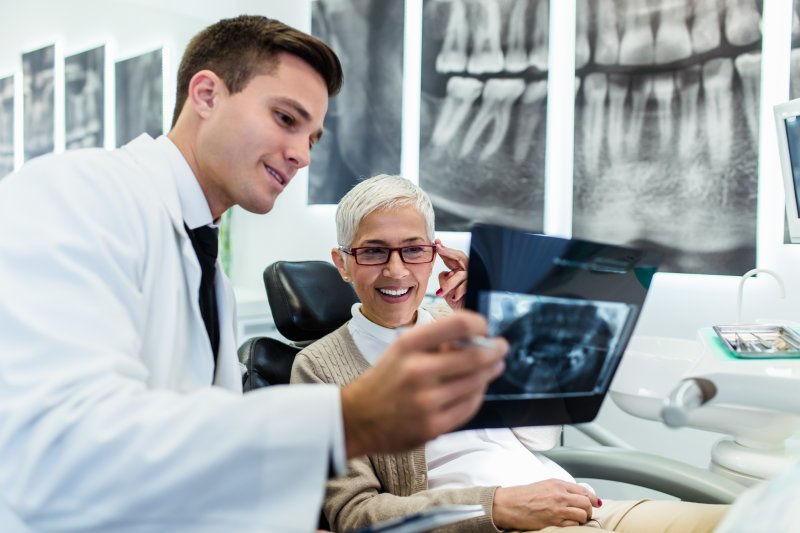 Missing teeth affects millions of people in the United States alone, but dental implants in Severna Park offer a lifeline to those suffering from tooth loss. With that said, it's important to recognize that while dental implants are accessible to more people than ever before, there are certain preparations to keep in mind. For example, you need to have good oral health. It's also crucial to have a strong jaw. Here's why that matters.
Jawbone Density Can Make or Break Dental Implants
One of the key steps of dental implant treatment is the integration process that occurs once the implant has been placed inside of the jaw. This process is called osseointegration and is the stage of treatment where the titanium implant post physically integrates with the bone tissue. If there is not enough bone tissue in the jaw when this process occurs, the implant may never properly "take" and could be at higher risk of failing later.
When you have substantial bone tissue and a strong jaw, the implant is far more likely to actually begin the integration process. This is why dentists will perform detailed examinations of the jaw before undergoing the dental implant process. Any specialist who understands the procedure knows that good oral health, sufficient bone tissue, and good gum health are among the most important factors to consider.
How to Keep Your Jawbone Healthy
The good news is there are many ways to effectively keep your jawbone healthy in the long-term. The process all starts with diet. For example, you'll want to make sure you have enough calcium in your diet as it plays a major role in ensuring bone health. What many people don't realize is that vitamin K2 and vitamin D are also great options for keeping the jaw healthy. Foods that contain either calcium, vitamin K2 or vitamin D include:
Dairy products (milk, cheese, yogurt)
Liver, eggs, some cheeses (K2)
Cereals, orange juice, tuna (D)
It's worth noting that vitamin D helps accelerate the absorption process of vitamin K2.
What Can You Do If You Lack Proper Bone Tissue
In the event that your current bone structure is not strong enough to hold a dental implant, there are other options for you to consider. For example, dentists who perform dental implant treatment may also be able to perform treatments designed to expand bone tissue. This includes:
Bone Regeneration (reverses some of the damage caused by gum disease)
Bone Grafting (works to regrow bone tissue that has broken down due to atrophy)
Sinus Lifts (creates more room for implants being placed in spots where bone tissue is minimal)
Even if you lack a strong jaw, there's no reason to rule out dental implants just yet. Schedule an appointment with a periodontist in Severna Park to complete a detailed consultation!
About the Author
Dr. Melody Ward has been in expert in dental treatments and surgery for many years now. Her dental implant placement, regenerative bone tissue treatments and bone grafting options are ideal for those in need of tooth replacement regardless of the condition of their jaw. To learn more about her expertise or schedule your first consultation, you can contact her through her website.