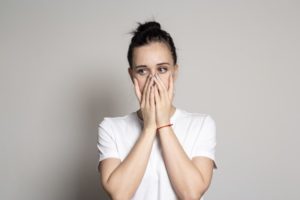 Discussions about tongue tie often center around how the condition can affect breastfeeding. However, there are many other problems that are associated with tongue tie, and they can have long-lasting, negative consequences. In this blog post, we'll discuss some specifics of how tongue tie can impact long-term dental health. We'll also touch on how a frenectomy near Severna Park may be able to prevent such issues.
Poor Oral Hygiene and Dental Decay
After eating a meal, a person naturally uses their tongue to sweep away any food that might be lingering between the teeth and gums, along the palate, or in the grooves of the teeth. Since tongue tie restricts the ability of the tongue to move freely around the mouth, it can stop a person from performing this quick cleaning after meals. Thus, food may remain lodged in those places for hours on end, which can increase the chances that tooth decay will occur.
Tongue tie can also lead to mouth breathing, which in turn can affect saliva flow and dry out the oral cavity. Without enough saliva to rinse bacteria and food particles away from the teeth and gums, dental decay, periodontal disease, and bad breath become more likely.
Dental Misalignment and Restricted Jaw Development
Tongue tie affects the resting position of the tongue. It may be too far forward in the mouth, and it might constantly push against the front teeth. Thus, a gap may develop between those teeth, leading to the need for orthodontic treatment.
Severe cases of tongue tie can even seriously hinder the development of the jaw, causing it to be smaller than it should. This can affect facial aesthetics and increase the risk of obstructive sleep apnea and TMJ dysfunction.
How a Frenectomy Helps
A frenectomy is a simple procedure wherein a dentist or periodontist near Severna Park uses a soft tissue laser to sever the piece of tissue that binds the tongue to the floor of the mouth (the frenulum). Once the frenulum is severed, the tongue will be able to enjoy a full range of motion.
It is usually best if an individual undergoes a frenectomy as soon as possible; it is even possible to perform the procedure on very young children. Used as a preventive measure, a frenectomy can spare a child from much future pain and inconvenience. Adults can benefit from a frenectomy as well, though they may require additional treatments to address the problems that tongue tie has already caused.
Are you or someone you know struggling with the effects of tongue tie? Seeking prompt treatment could save your oral health!
About the Author
Dr. Melody Ward is a periodontist, which means she is a dentist who specializes in caring for the gums. In 2014, she achieved Diplomate status with American Board of Periodontology. Dr. Ward is also trained in laser dentistry, so she is fully qualified to perform laser frenectomies. If you would like to learn more about Dr. Ward, tongue tie, or frenectomies, contact our office at 410-583-5214.